6 glasses wine rack for wine whiskey beer rack bar accessories liquor tanker drinking fountain party drinking tool
detail:
Name: 6 small glass dispensers and holders
Size: 13.2 * 12.3cm
Color: gray, blue, red
Packing: color box
[The carton is easy to break during transportation, but the products inside will be fine]
Material: water dispenser (food grade plastic)
Mug (Acrylic)
packing list:
1 *Wine glass dispenser (not including cups)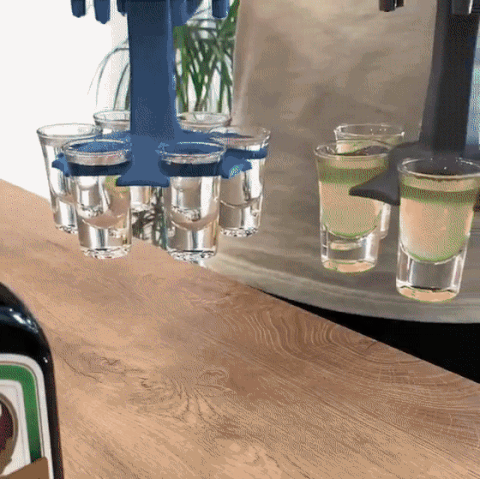 Dispensador y portador de licor
Diferentes tomas de botellas dispensadoras de alcohol, dan la medida perfecta cada vez, es una forma ordenada y elegante de dispensación. El dispensador de licor es ideal para vacaciones, bares de fiestas y bares domésticos. Disfruta de tu buena hora del vino cuando estés libre en casa.
Vierte 6 disparos a la vez
Con seis tomas te permitirá llenar fácilmente hasta seis vasos de chupito a la vez con tu bebida favorita y luego sostenerlos, todo en uno. Llena varios vasos de chupito a la vez, ahorra tiempo, evita el desperdicio o derrames.
Bar tiempo
Disfruta de tu buena hora del vino cuando estés en casa, este producto es ideal para vacaciones, fiestas, bares y bares. Adecuado para seis gafas pequeñas, productos separadores de vidrio.
La mejor manera de verter uniformemente los 6 disparos es:
1. Asegúrate de que la superficie esté nivelada,
2. Vierta rápidamente a la altura de la joroba media.